Monday, May 11, 2020
School Nurse Topic Ideas Needed
About six months ago I had this great idea to start posting monthly newsletters.
They were a great creative outlet and I only wished I had "more time" to devote to them.
Fast forward to today where some would say I actually have have "more time".
Could it be though, that sometimes "less is more"?
I seem to have more time, but less focus.
More time, but less creativity.
More time, but less inspiration....
Anyone else feel the same way?
Well here are my first few newsletters!
And I've decided to add this back on my to-do list!
Please comment some topics you'd like me to write about.

Click below for the most recent school nurse newsletters.
And please comment some future newsletter topic ideas.
This newsletters contain affiliate links.
UPDATED
Friday, May 8, 2020
IN A WORLD WHERE YOU CAN BE ANYTHING
BE KIND
I've always loved this quote and have seen it around for years.
Something so easy can actually be so hard; especially
during these trying times! This is just a great reminder for all.
You can get a
FREE computer wallpaper here:
Drop your desktop icons in the strip of faded white.
View the ENTIRE COLLECTION in my Zazzle store;
click here!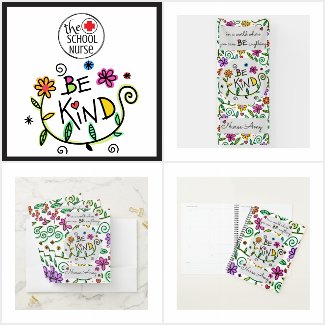 Be Kind
by
The School Nurse